Thursday, January 05, 2006
Orange Bowl: Final Play
My buddy took this picture from Section 413 of the Orange Bowl at about 1:15am on Tuesday night. Redeemed Penn State kicker Kevin Kelly is number 23.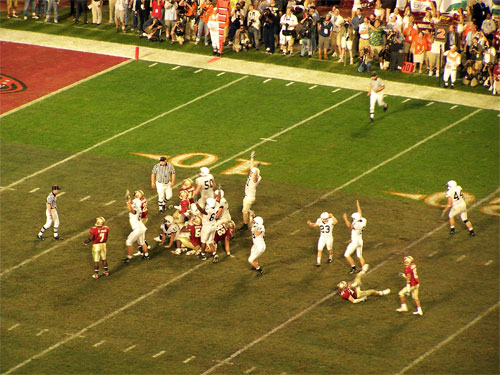 The game was as exciting as it looked on TV.
Some thoughts:
-The Dolphins Stadium parking situation is a nightmare. The Rte 95 exit opens right into the lot. Forget changing lanes. It didn't help our driver took two different wrong turns getting there,
with the stadium in sight.
-The Dolphins Stadium port-a-potty situation was a bigger nightmare. We found only two "stalls" within easy walking distance of our tailgate. (Which was about 3/4 mile from the stadium.)
-The stadium was at least 60% filled with PSU fans. All loud. Mostly white clad.
-The stadium announcer must have been 130 years old and very annoying.
-The Seminoles are a talented football team.
-The Seminoles are a dirty football team. 13 Penalties for 129 yards, of which at least five were personal fouls. Not to mention the away from the ball stuff that wasn't called. The Seminoles trying to draw a penalty by a shove/block after the whistle.
-The Seminole fans need help on their smack talk.
-The Seminole pep band were very good. Large too.
We stayed in Fort Lauderdale and enjoyed wonderful weather, numerous Primanti Bros. sandwiches and the occasional adult beverage. A great trip.
|
Permalink Here


---
http://www.top-blogs.com/cgi-bin/rankem.cgi?id=ebradlee