Tuesday, October 25, 2005
A New Brand of Pop-Star?
The Olsen twins? I think not...
These two girls just want to get out
their message
:
..."We're proud of being white, we want to keep being white," said Lynx. "We want our people to stay white … we don't want to just be, you know, a big muddle. We just want to preserve our race."...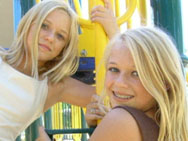 |
Permalink Here


---
http://www.top-blogs.com/cgi-bin/rankem.cgi?id=ebradlee