Wednesday, July 21, 2004
C'mon You Nittany Lions!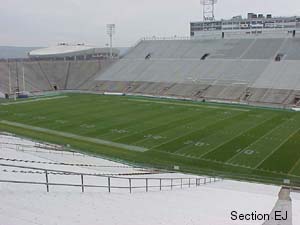 After years of using family friend memberships I've finally been able to secure Penn State Football season tickets through my own Nittany Lion Club membership. A huge relief because I wasn't sure if my point levels would allow me to get the tickets.
The only problem is the location of the seats (pictured above), not that I'm complaining. That section is where the visiting team's supporters reside. So it should be an interesting season, particularly if we suck less than we did last year.
I don't think I'll need the sock-full of nickels, but you never know.
If you're in Beaver Stadium near section EJU, row 78, seats 14 & 16 stop by say hello.
|
Permalink Here


---
http://www.top-blogs.com/cgi-bin/rankem.cgi?id=ebradlee